The SwitchOn Radio Enrichment Program for Schools is going global!
Now available as a live online incursion, the SwitchOn Enrichment Program offers mentoring for primary to tertiary level students to create their own radio show or podcast from anywhere in the world! SwitchOn is the acronym for 'Students With Initiatives To Create Humanitarian Outcomes Now' and the SwitchOn initiative is all about giving young people a voice in creating the world we all wish to live in.
The SwitchOn Program is a high value/low cost exciting opportunity for students (from individuals to whole year levels) to be mentored by the School Broadcasting Network's multi-award-winning team in a range of radio production skills for live broadcasting, including: research and script writing, booking guest speakers, presenting, interviewing, audio editing, creating stingers, soundscapes & special effects and podcasting skills. 

In-person incursion workshops in Greater Melbourne can include an excursion to 94.1fm 3WBC radio station in Box Hill, to deliver the students' production live-to-air in studio*. In-person incursion workshops are also available in Greater Sydney and online live incursions are available world-wide. Each year numerous programs produced by Year 4-8 year levels have the opportunity to have their own radio shows broadcast on Funky Kids Radio – SBN's online global children's station. A maximum of 12 programs* per year (produced by primary, secondary or tertiary students) are selected to broadcast both online and via numerous terrestrial radio stations around Australia, as part of SBN's national/international youth radio shows.
After completing the SwitchOn Enrichment Program, participating schools have the option to take an annual subscription where they can continue to have their own regular 20-55 minute school radio show broadcast on Funky Kids Radio, reaching an extensive audience around the world (applicable for Year 4-8 students).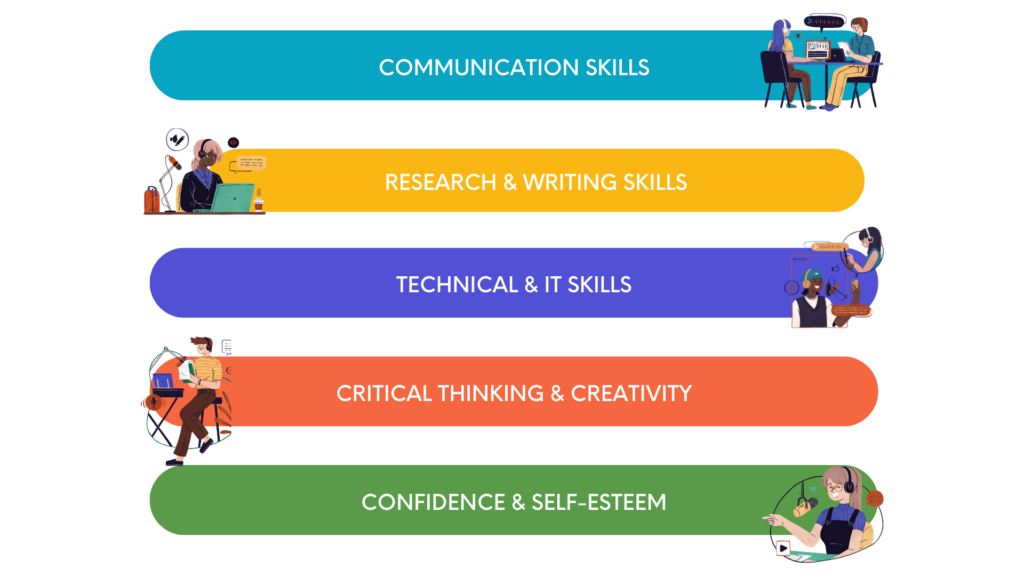 How can the SwitchOn Program benefit any career path?
There is no question that communication skills are essential in today's workforce: according to the AAGE 2022 report, 98% of employers have communication skills at the top of their list in their recruitment and selection processes and 86% consider these skills to be very important. In order to secure the jobs they want and to thrive in their future careers, we need to ensure students develop excellent interpersonal skills, as well as learning how to communicate their ideas in effective and engaging ways to different audiences. The more opportunities we can provide students to practice communicating via different outputs and to diverse audiences, the more skilled they become.
Giving students the opportunity to get involved with planning, designing and presenting radio shows and podcasts is a creative, fun and collaborative way for them to develop these vital skills. In designing and presenting shows, students learn exceptional written and spoken communication skills, and by working collaboratively they develop excellent teamwork and inter-personal skills. Working in a fast-moving media environment hones students' confidence, self-esteem, and resilience, all of which stand students in excellent stead for life after school.  The SwitchOn Enrichment Program provides a great opportunity to develop these skills, including active listening, respecting the interviewee's ideas and expertise, responding appropriately and engaging inclusively and age appropriately with a range of different audiences – it's a perfect training ground for developing and strengthening team work and communication and interpersonal skills.

What do teachers and students say about the SwitchOn Program?
"A highly engaging program that imparts valuable and transferable communication skills, which are an excellent asset for any career path."  Assoc. Prof. Jen Martin, Head of Science Communication Teaching Program, University of Melbourne
"We need our children to have a sense of what's real and this program offers them the ability to research and form opinions and then translate this across the airwaves and this, in my opinion, is one of the 'real time' exciting breakthroughs in education."  Jon Pittard, Head of Junior Campus, The Peninsula School

"I still remember being a young nine year old, coming in for my first show and thinking how cool and somewhat intimidating it was… Being a media cadet with SBN provides previously unfounded access for children and adults alike to the most incredible people in the world, and provides an avenue for primary school aged children to young adults to leave their mark on the world. I can't think of any other opportunity where I could've met so many incredible people… it's played a massive part in who I am now."  Harry McLeod, Doctor of Medicine Student, Deakin University / Chairman, SBN International Young Leaders Advisory Board

"I learnt so much from this wonderful experience, it's something I can look back on and say, 'Wow, that was amazing!' It was a great opportunity to talk about the environmental issues that affect us all and hopefully get students thinking and talking."  Alexandra, Year 7
"I really enjoyed the radio experience. I learnt so much and it was a great opportunity to address some really important issues. It is something that I will remember for the rest of my life."  Chloe, Year 6

"All teachers involved attest to how positive and valuable the activity was for their students. All students were engaged throughout the program and it catered for their individual learning needs. The concept of 'creating humanitarian outcomes' as the title suggests, entails high order thinking and if you if you listen to the program you most certainly will agree that the students challenge your own thinking."  Katherine Dimopoulos, Leader of Learning: Literacy, River Gum Primary School
The unique high value/low cost SwitchOn Enrichment Programs start from $300AUD for individuals and $750AUD for schools or clubs – for bookings and further information please email info @ switchonradio.org